A LEATHER FRANCHISE
.
Your opportunity to get your own franchise!
.
Leather apparel and accessories franchise.
.
Why Franchise with Jamin Leather®
Especially for the leather apparel industry, BRICK and MORTAR appears to be the future focus of leather shopping as more and more consumers are frustrated with the lack of English-speaking companies taking over internet shopping of leather goods. With inconvenient return issues, unexpected size and fit problems, online discounts that reflect the ACTUAL value of those goods, with hyped up expectations of inferior goods including fake leather, and infiltration of large conglomerates swallowing up smaller businesses as they out spend and saturate the market from overseas.
SHOP LOCAL!  American consumers would all prefer to support good, old fashion American run companies with a hometown feel, impeccable personal service and quality goods in their own town.
.
Motivation to Franchise
While the owner believes Jamin Leather® has numerous appealing attributes and outstanding growth opportunities, in 2023 at age 63 and after almost 50 years selling leather goods, the time is right to expand to new markets. He also believes franchise ownership can accelerate the brand in reaching the next level. He will remain and support the Jamin Leather® brand in the years to come on a full or part time level barring any health issues.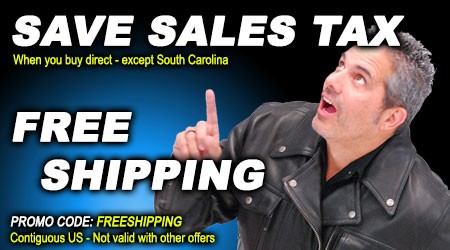 Since 1979, Jamin Leather® has been manufacturing, designing, and selling exclusive leather goods, which include motorcycle apparel, and leather accessories. Our registered trademark brand is exclusively all genuine leather. Our Roadkill Leathers collection is an eclectic selection of value priced and on sale leather apparel and accessories. And lastly, for those looking for leather goods Made in USA, Jamin Leather® has a production staff sewing away at many of our smaller leather accessories and leather lingerie pieces. Jamin Leather® operates and ships out of a 24,000 sq ft building in Myrtle Beach South Carolina. Jamin leather® has leather expert staff to assist you with sizing, selection, leather care and product recommendations. Jamin Leather® is the only online retailer with a Best Price Guarantee™ and a Best Fit Guarantee™ program.

THE LEATHER CATALOG
#1 In Leather Since 1979
Business Summary of Jamin Leather®
Jamin Leather® LLC is currently registered as a Limited Liability Company in South Carolina. The Company is owned by James J Keats (100%), Managing Member, assisted by his wife Theresa and staff.
Founded in 1979, Jamin Leather® is a retailer of over 6,000 skus of leather apparel and accessories, including private label products and non-catalog related products. Revenue is derived from print catalog and online retail of approximately 45% through their optimized websites including jaminleather.com and shop.jaminleather.com, a 6,800 square foot Myrtle Beach catalog outlet retail location generating approximately 45% of its sales, and marketplace affiliates generating approximately 10% of its sales through Amazon, Google, Facebook, TikTok, Etsy, and eBay amongst others. The Company has successfully attracted visitors to the Myrtle Beach area from all over the world as could your future franchise location.
Jamin Leather® specializes in leather apparel and select accessories (some made in-house). Jamin Leather® offers a unique collection that rivals competitors, designs, and produces select items that no one offers. Jamin Leather® has a print catalog that no known competitor produces, offers more styles of leather goods than any known competitor in virtually every apparel category, and has superior in-house customer service, retail, shipping and manufacturing staff.
Jamin Leather® uses Google keyword marketing, remarketing, display ads and slants its marketing toward leather shoppers, bikers, alternative lifestyles, steampunk, 50 shades, and other lookalike audiences as the market trends seem to be best suited at the time. Besides the Jamin Leather® website promotions, their multi-page nationwide print catalog is mailed to a large portion of their periodically updated 200,000-customer database, produce nationwide weekly email campaigns, and schedules social media posts thru Pinterest, Facebook, Twitter, Instagram, TikTok, and others for a well-rounded marketing plan.
The Myrtle Beach retail store is a 6,800 sq feet of retail space with sales partially generated from local billboards, bike week promotions, local emails, MBEventGuide.com posts, print catalog hand-outs, and from their well trained and engaging staff.
Jamin Leather also sponsors many bike week events and Benefit Runs as well as sponsoring an events website for Myrtle Beach area visitors: MBEventGuide.com that further supports likeminded businesses.
FRANCHISE APPEAL
Industry Growth The organization is well structured for continued expansion. The leather apparel and accessories market is a modest specialty business that has the potential of immense growth in select markets lacking a quality leather retailer like Jamin Leather® to take the reins. A strategic growth opportunity for an investor to explore a brick-and-mortar franchise strategically placed somewhere within their preferred region.
Management Leadership Expertise:  The Company has, through the investment of considerable time and money, developed a unique and distinctive system of high quality. Led by exceptional management with over 40 years of experience and well-respected as an industry expert with strong understanding of style, design, sourcing, and business development in the leather industry.
Established and Trusted Supply Relationships: The Company benefits from strong long-term relationships with best-in-class retail/e-tail market leaders for whom they have established proven product development, sales, replenishment programs and the ability to supply high volume production demands for their Franchise channels.
Exclusive Leather Products: The system includes distinctive and exclusive products that are proprietary with unique specifications as well as a unique product mix of leather goods. The business designs and produces private label apparel, exclusive Jamin Leather® designs and unique products not offered elsewhere. The Company utilizes several facilities including in-house for high-quality and timely production. Our factories will continually fill and produce high quantities, while maintaining quality.
Flagship Support: The franchise's 24,000 sq ft location in Myrtle Beach SC includes a 6,800 sq ft catalog outlet, corporate offices and warehouse that will support and handle all aspects of the franchise including manufacturing select accessories, product selection, ordering, drop-shipping and special ordering.
Regional Commission Sales:  Franchise owners can receive 10% commission on all sales within their protected territory without any efforts of their own. Franchise owners will also be able to benefit from the Shop.JaminLeather.com website and catalog and receive 35% commission on all dropship orders placed by the Franchisee and shipped directly to the customer by the Franchisor.
Superior Name and Reputation, Loyal Customer Following: With over 40 years in business and the FIRST internet retailer of shop-able leather products with up to 90 pages of product and information online since 1995. Jamin Leather®'s customer base is large in number and very loyal.
Diversified Customer Base: Jamin Leather® has a wide range of customers which is not exclusively biker, but primarily a fashion customer looking for an alternative or edgy look. Much of its customer base are practical buyers needing functional products like wallets, belts, and bags.
Superior Management: Key personnel are available for anytime support of all franchisees which include a retail manager, operations manager, and senior managing member.
Exclusive Private Label Products: Jamin Leather® designs and produces a large variety of exclusive private label items, including unique items that no one else offers. Besides their own in-house production staff, Jamin Leather® has several key factories that it relies on for high-quality and timely production. The factories can fill and produce high demand, large quantity orders while maintaining quality control, under Jamin Leather®'s supervision of these longstanding relationships.
Registered Trademark: The Company holds a registered trademark on Jamin Leather® and has been successfully eliminated all found postings and infringers.
Product Videos and Photography: Jamin Leather® owns tens of thousands of copyrighted product photography and an extensive collection of product and information videos that can be available to all franchisees for in-store and local advertising promotions. The Franchisee will not be permitted to market or post any imagery of a product not provided by the Franchisor. Local posting of a purchasing customer's photo will be permitted only if it portrays a positive image. Jamin Jamie can be available for promotions of any individual Franchise location at no charge for most video recordings. Any other services may require a fee that will be determined on a case-by-case basis.
National and International Reach: Through its online presence, the Company sells to customers nationwide and internationally. Franchisees will benefit from its broad marketing approach and recognition for visitors to their area, making key, high traffic locations more profitable.
Flagship Location to Emulate: Jamin Leather®'s 6800 sq ft superstore is unique and very impressive for the visitors of the popular year-round tourist destination located on a main thoroughfare in Myrtle Beach. It is an ideal design and layout for a franchise to mimic in their area.
Favorable Outlook for Brick-and-Mortar: US online shopping is forecast to grow at an annual compounded rate of 5% per year. Though that may be true for big business, smaller independents are being buried further and further online as more and more wholesalers, large conglomerates and foreign business infiltrate the online US market, in turn, leaving a real advantage for Brick-and-Mortar businesses to succeed with their selection within arm's reach and excellent personal service.
Strategic Growth Opportunities: The established business methodologies refined by Jamin Leather® are expected to yield growth going forward with the addition of expanded, privately owned Brick-and-Mortar locations. A new focus on strength in numbers theory! The more the brand is recognized the increase in online sales strengthening the brand as well as rewarding franchisees with commission profits from sale in their protected territory without efforts of the franchisee

**K Plan
An ideal plan for a small business that can be a section in a department store, a mall kiosk, a small retail location and possibly a mobile display (not outlined here). Limited to catalog product selection only. Ideal for selling small leather goods like belts, wallets, bags, pouches and maybe a small or limited selection of leather apparel. This plan has a protected territory of a 20-mile radius against other Jamin Leather® Franchises as well as gain mail-order commissions within that protected territory.


**Silver Plan
This plan is ideal for a medium size location in a mall or free standing strategically located location with high traffic or with high visibility from harmonious potential customers. Ideal for a good selection of leather apparel and accessories. Non-catalog products can be added from approved suppliers ordered through the Franchisor. This plan has a protected territory of a 40-mile radius against other Jamin Leather® Franchises as well as gain mail-order commissions within that protected territory.

**Gold Plan
This plan is ideal for a full-size retail location in a mall or free standing strategically located location with high traffic or with high visibility of harmonious potential customers. Ideal for the full line of leather apparel and accessories. Non-catalog products can be added from approved suppliers ordered through the Franchisor. This plan has a protected territory of a 60-mile radius against other Jamin Leather® Franchises as well as gain mail-order commissions within that protected territory.
What would be a great alternative franchise to consider? How about leather apparel and accessories. An exciting alternative to the hum-drum offerings. A franchise that is not labor or skill intensive. Jamin Leather® catalog outlet franchise is a perfect and fun alternative.  Simply search JaminLeather.com/franchise for more information.
What franchise does not require trade experience to operate? One of the most fun and exciting alternative franchises is the retail sales of leather apparel and accessories, like Jamin Leather®. Maybe a little talent to talk with shoppers but no specialty skills and equipment required. A great new alternative. Simply search JaminLeather.com/franchise for more information.

History of Jamin Leather®
Founded in 1979 in the wonderful state of New York, Jamin Leather® formally known as Jamie's Leather prior to 1990, has always been a retailer of leather apparel and accessories, including handmade and private label products. Revenue is generated at its flagship Myrtle Beach retail location (since 1997) and by a mail order print catalog (since 1993, samples shown below), the internet (since 1995), and through online affiliates which include Amazon, Etsy, eBay and others (beginning around 2010).
INTERESTED?
Franchise Inquiries: Please complete this short inquiry form to help us to possibly consider future considerations for a lucrative Jamin Leather® franchise of your own. Or call 843-294-1222 ext #6 with answers to these questions.