NEXT SCHEDULED AUCTION:
October, 1st 2022 at 4PM EST – Benefiting Tunnels To Towers Foundation courtesy of Blue Knights SC-V
Next Auction TBA
VIEW LIVE AUCTION ON FACEBOOK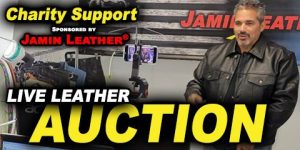 VIEW LIVE AUCTION ON YOUTUBE
INSTRUCTIONS:
Win a bid? Complete below before you leave our live auction. Recommend leaving this page up partially completed leaving the "Auction Item #" and "Bid Amount" blank until you win your bids, separated by commas. We will contact you within 48 hours for your tax deductible charitable donation unless you wish to pick up your winning bids in the store. One $10 flat fee for shipping is needed for all your winnings. Thank you for your donations!
Jamin Jamie, your host and auctioneer.