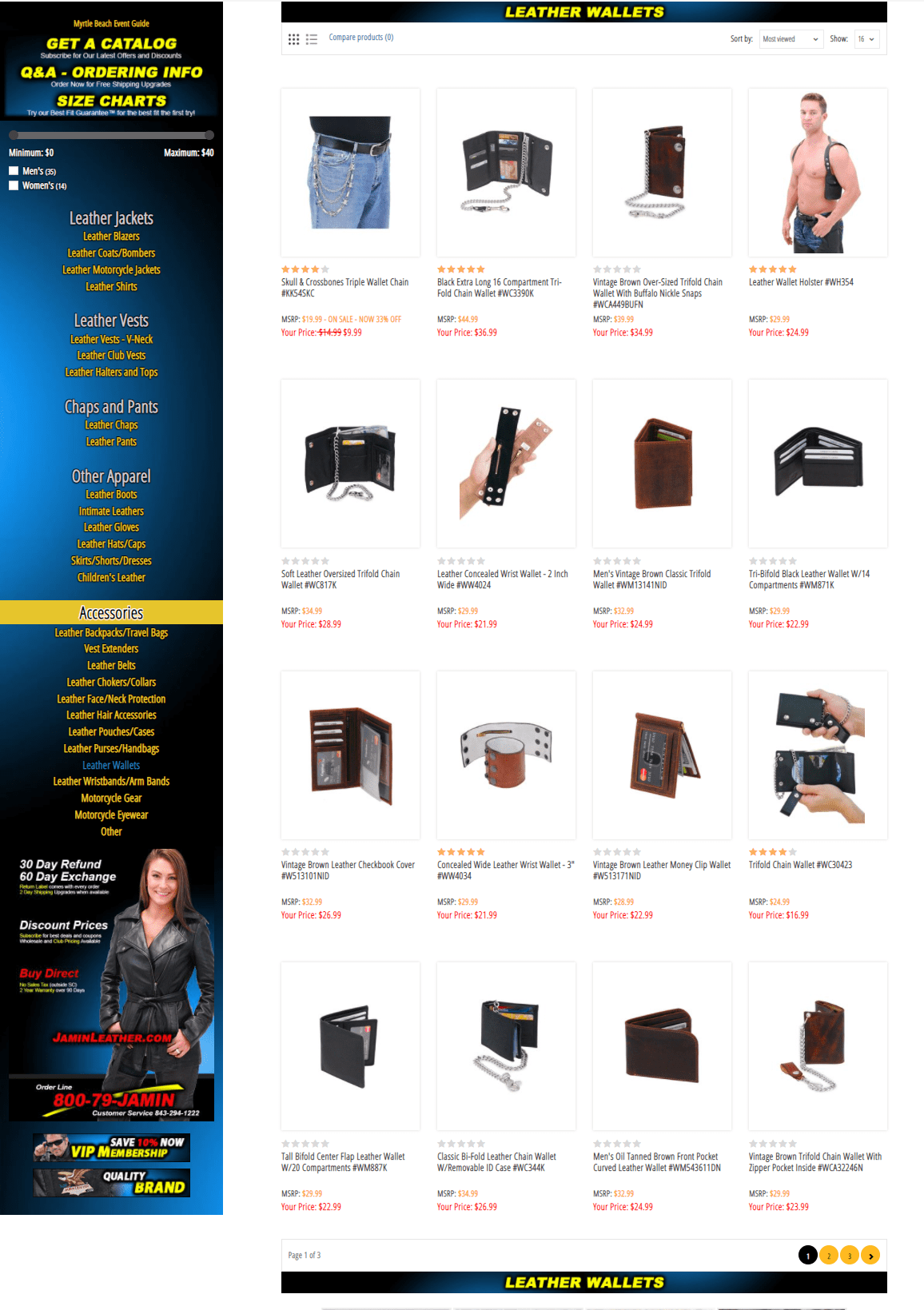 LEATHER WALLETS
Leather Money Clips
If you're looking for the best leather wallets for men look no further! Jamin Leather has a nice collection of long lasting leather wallets, and maybe even a leather money clip or two. You've come to the right place! Jamin Leather has many top quality black leather wallets, brown leather wallets and a few leather money clip wallets to choose from. We even have a unique leather wallet holster to conceal your stash when traveling! We're confident you will find something you need.
No one likes losing their wallet, especially if it ever fell out of your pocket. This is especially concerning for those who ride a motorcycle, bicycle, or moped.  Jamin Leather has many options in affordable quality biker leather wallets with chains to keep them securely in place and attached to your belt or belt loop. This includes a large variety of trucker wallets, biker chain wallets, and other unique styles of genuine leather wallets with chain. Truckers, often carry a lot of important papers and need a large leather wallet to keep it all together and securely available.
The most popular wallets for men are trifold wallets. Even some ladies prefer the not so bulky trifold and bifold leather wallets now-a-days. Jamin Leather has a unique collection of black leather wallets, brown leather wallets and unique styles of billfold leather wallets. Our men's trifold leather wallets and bifold leather wallets come with a large number of pockets to hold everything you need.  We also have many choices in vintage leather wallets that may only be found here at Jamin Leather.
Call Us
800-795-2646 or 843-294-1222
Shipping Locations
Jamin Leather ships out of Myrtle Beach SC, and 5-10% of all packages ship out of:
Oceanside NY
Garfield NJ
Baltimore MD
Daytona FL
Carlstadt NJ
City of Industry CA
Las Vegas NV
Hasbrouck NJ
Main Office: 1222 Port Dr, Myrtle Beach SC 29577
Jamin Leather makes offers and coupons exclusively for our customers that subscribe to our emails. 
exclusive offers
discount coupons
first hand look at new products
first hand look at markdowns
Keep in mind you can unsubscribe at anytime and you won't see another email. We send 1-2 offers each week so you won't be bombarded with daily emails. Subscribe with us to get our most current offerings: including specials, coupons, new offerings, and special deals.