LEATHER LINGERIE
Leather Corsets and Ladies Leather Lingerie
Hey ladies… need something for that special night? Get yourself some sexy leather lingerie from Jamin Leather®. We have an exclusive selection of exotic leather lingerie including leather garter belts, leather tops, leather halters, leather bras, leather corsets and even a leather teddy or two. And for those who may be a little more daring check out our very popular chainmail bra. Once you find that perfect item to wear to the club, wear at the next bike rally or just for some intimate moment with someone special, don't forget the leather BDSM accessories that will keep your slave in check.  Whatever your position, master or slave we will have something to make you feel dominant, submissive and beautiful, all at the same time. 😉
Want something a little more fun? Jamin Leather® has a selection (or a collection) of leather restraint sets that include leather chokers, D-ring leather wristlets, D-ring anklets and a ton of chains that will clip it all together as you desire. We've got you covered with our collection of chains and leather harnesses to keep your partner in check, or maybe just a really cool accessory to grab some extra attention. How about a leather whip, wrist restraints, a leather mask or a leather blindfold or two. Check out our collection of unique leather BDSM items only available at Jamin Leather®, much of which is made in USA.
Top off that evening or special performance with a surprise leather undergarment like a genuine leather G-string or a black leather thong. Jamin Leather® has a variety of sexy options. Even a men's leather thong and a men's leather G-string. The ladies can match a fringe leather thong with a fringe top or a lace up leather thong with a lace up leather top. We have crystal leather thongs, white leather thongs, leather and chain G-strings, black leather G-strings and even snap away leather thongs for quick access. A leather pair of underwear is something they won't expect. Most of which is made in USA, amongst many of the other leather accessories we carry.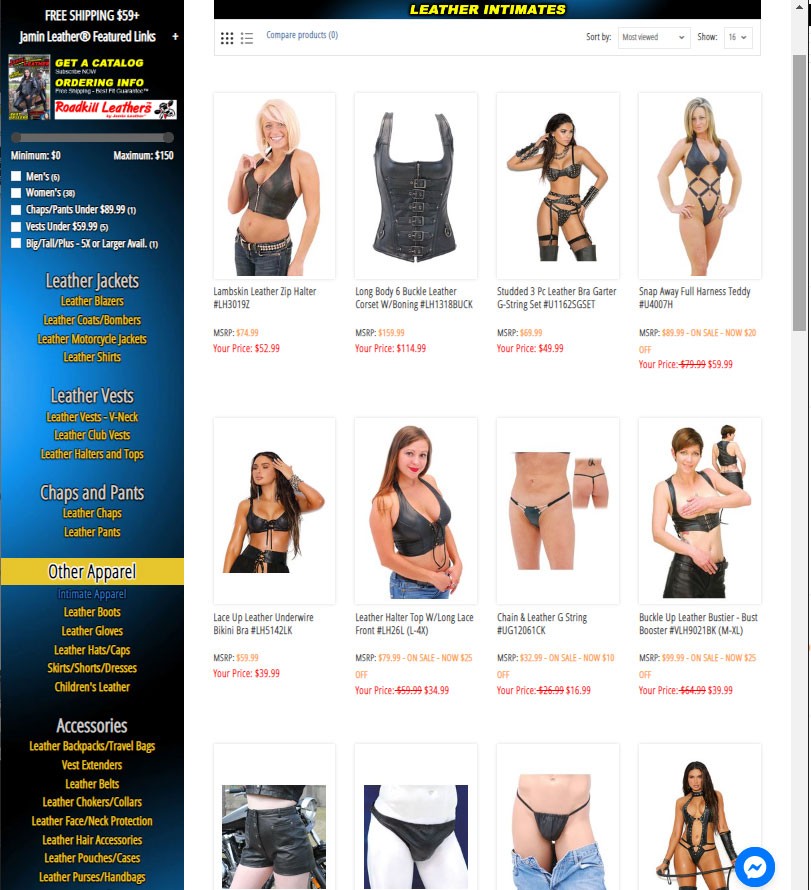 Call Us
800-795-2646 or 843-294-1222
Shipping Locations
Jamin Leather ships out of Myrtle Beach SC, and 5-10% of all packages ship out of:
Oceanside NY
Garfield NJ
Baltimore MD
Daytona FL
Carlstadt NJ
City of Industry CA
Las Vegas NV
Hasbrouck NJ
Main Office: 1222 Port Dr, Myrtle Beach SC 29577
Jamin Leather makes offers and coupons exclusively for our customers that subscribe to our emails. 
exclusive offers
discount coupons
first hand look at new products
first hand look at markdowns
Keep in mind you can unsubscribe at anytime and you won't see another email. We send 1-2 offers each week so you won't be bombarded with daily emails. Subscribe with us to get our most current offerings: including specials, coupons, new offerings, and special deals.