LEATHER SKIRTS
Leather Shorts
Hey ladies… Need something sexy for a special night out or hot date?  How about a black leather skirt like a sexy leather mini skirt or something a little more interesting looking like a side lace leather skirt. Jamin Leather® has an exclusive collection of lambskin leather skirts for the ladies to choose from. From side zipper skirts to long leather skirts and a few plus size leather skirts for the ladies who need it. A black leather mini skirt is sure to turn a few heads. So, top off that your look wearing a unique leather skirt from Jamin Leather®!
There's nothing more sexy than a nice pair of black booty shorts. You can dress up or dress down with one of Jamin Leather®'s exclusive black leather shorts for a simple or sexy look. Whether you like a pair of leather booty shorts or a pair of leather hot pants, you'll be one step closer to the center of attention. There's always something leather to complete any outfit!
For the ladies, we have a selection of sexy leather dresses to spice up the night.  How about trying something a little scandalous by wearing a leather mini dress to an event to keep all the attention on you. It may not take much effort simply wearing a sexy black dress to dominate the evening amongst your friends or keep the attention of your special friend on you. Either way, our women's leather dresses are sure to gain you some attention!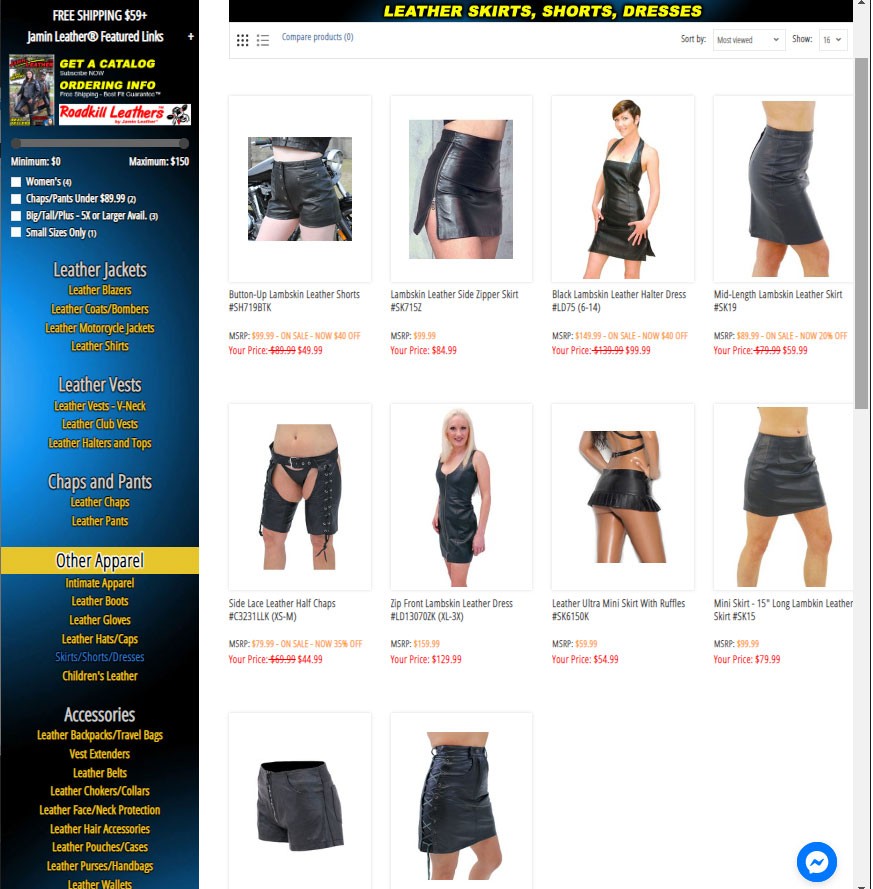 Call Us
800-795-2646 or 843-294-1222
Shipping Locations
Jamin Leather ships out of Myrtle Beach SC, and 5-10% of all packages ship out of:
Oceanside NY
Garfield NJ
Baltimore MD
Daytona FL
Carlstadt NJ
City of Industry CA
Las Vegas NV
Hasbrouck NJ
Main Office: 1222 Port Dr, Myrtle Beach SC 29577
Jamin Leather makes offers and coupons exclusively for our customers that subscribe to our emails. 
exclusive offers
discount coupons
first hand look at new products
first hand look at markdowns
Keep in mind you can unsubscribe at anytime and you won't see another email. We send 1-2 offers each week so you won't be bombarded with daily emails. Subscribe with us to get our most current offerings: including specials, coupons, new offerings, and special deals.