LEATHER CLIP POUCHES
Leather Hip Clip Bags
Need a convenient place to keep your cell phone, business cards, ID, wallet or pack of cigarettes? Try a leather clip pouch! The perfect size for the important stuff.  Our leather hip clip bags are made of top quality leather to last, especially the ones made in USA. You can find the style and shape of a leather hip bag that is perfect for your stash. Some are perfect for your cell phone that may even have a special pocket for it, and others that might even hold your small firearm to feel extra safe.  No matter your preference in leather belt bags, you are sure to find what you need amongst Jamin Leather®'s large selection!
Guess what's back in style? Well, kinda! It's the fanny pack, a timeless necessity that trends that fill the need today as it did in the 70's when they were first introduced. Our leather fanny packs are perfect for when you are out and about, to keep you from carrying that large purse or when you travel with that wad of cash you'll need to bring with you. We have leather butt bags in several sizes and colors with a ton of pockets to hide all your stash. Find that perfect black leather waist bag to fit your needs.
For those who just can't live without their cell phone, we've got just the right selection of mobile phone cases for you so you don't need to bulk up your pocket, especially now, with the large cell phones of today! Jamin Leather® has the best phone cases in long lasting quality leather, with several made in USA. Not only do we carry great leather phone cases, we also have motorcycle cell phone mounts for the bike as well as cell phone belt pouches and cell phone pouches for your hip! You are bound to find the perfect cell phone case to fit your needs right here!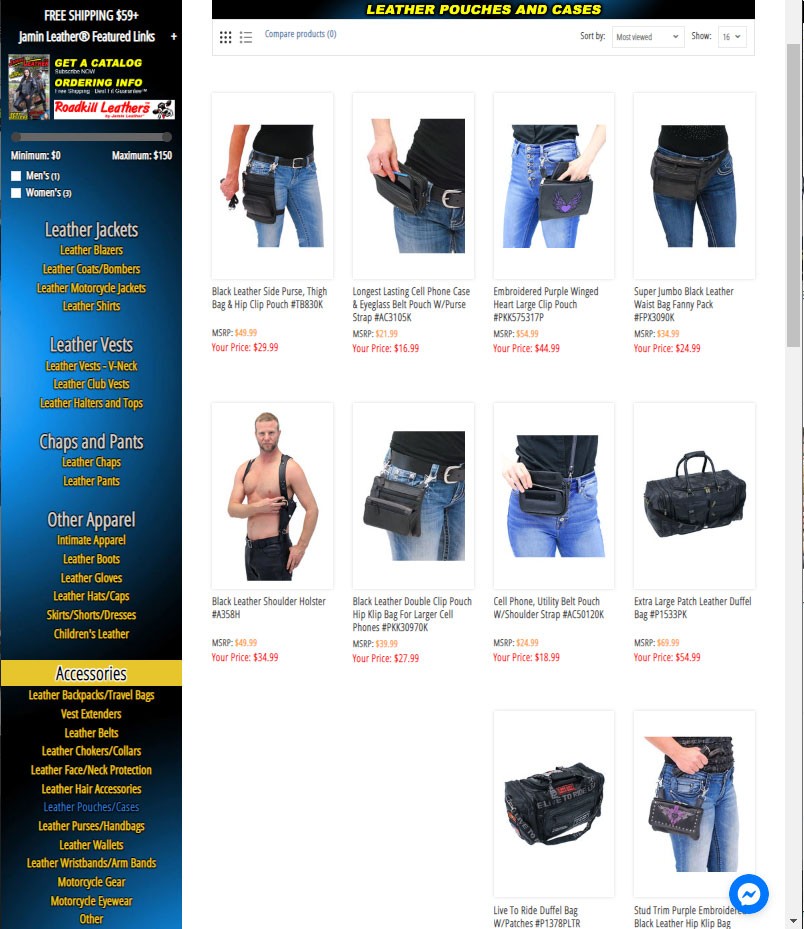 Call Us
800-795-2646 or 843-294-1222
Shipping Locations
Jamin Leather ships out of Myrtle Beach SC, and 5-10% of all packages ship out of:
Oceanside NY
Garfield NJ
Baltimore MD
Daytona FL
Carlstadt NJ
City of Industry CA
Las Vegas NV
Hasbrouck NJ
Main Office: 1222 Port Dr, Myrtle Beach SC 29577
Jamin Leather makes offers and coupons exclusively for our customers that subscribe to our emails. 
exclusive offers
discount coupons
first hand look at new products
first hand look at markdowns
Keep in mind you can unsubscribe at anytime and you won't see another email. We send 1-2 offers each week so you won't be bombarded with daily emails. Subscribe with us to get our most current offerings: including specials, coupons, new offerings, and special deals.